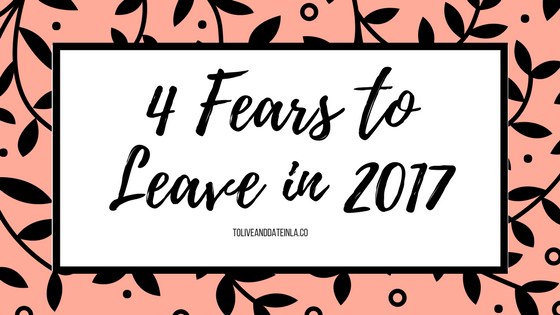 As the New Year approaches, I, along with you, will replay every single moment of this year over and over in my head. All of it, the bad, good, insane, and awkward events that shaped 2017. A few things scared the bejeezus out of me: the state of our country, stepping on my new puppies leg, the black mold in my apartment, quitting my long time job, and pitching my scripts…to name a few. I'm an over thinker, that's not a secret, but I started to really delve into a few of these fears, and how to let them go, or at least use them for our benefit. 4 Fears to Leave in 2017:
1) Fear of Success: This is a fear many of us have but don't fully recognize. Success is scary. There is so much that comes along with it, mainly, pressure to keep it up, and this is where the fear creeps in. We all want to be successful in life, no matter what that may look like. My definition of success may not match yours, but I can guarantee that the fear of obtaining and keeping it is a real emotion we both share. Let's agree that we will leave this fear in 2017 and not let it dictate how we go about accomplishing our goals in 2018. One day all of the sacrifices and hard work will pay off, or, you may have already achieved success and are in panic mode trying to keep it up. Don't focus on all of the what-ifs, and live for right now. Use that fear to push you past the point of success you have dreamed up for yourself. Believe in the impossible, and watch the universe unfold around you. You deserve it.
2) Fear of Failure: Failure is a bitch. Seriously. I have failed at literally everything I have attempted, tried, or accomplished. Yes, I typed accomplished, because I had to fail more times than not to be able to accomplish whatever it is. This year I pitched scripts to executives, managers, production teams and even executive assistants, and was rejected by almost all of them. It comes with the territory. What are you afraid of? Is it putting yourself out there, feeling as though you're not talented or educated enough, feeling as though you'll never succeed?
Let that fear fuel you. I do all of the time. Writing a blog post, script, screenplay, auditioning. etc. are all scary as hell. I open myself up to severe criticism, hate and judgements daily, but how else can I reach my dreams and goals of becoming a successful actor/writer. The nervousness is normal. Fearing failure is normal, but it cannot exist in an accomplished world. You will never become an actor, writer, lawyer, engineer, disney princess or whatever the hell it is you want, if you allow fear to lead your life. Use fear, don't let it use you. Let 2018 be the year you put yourself our there. You earned it. Continue reading →