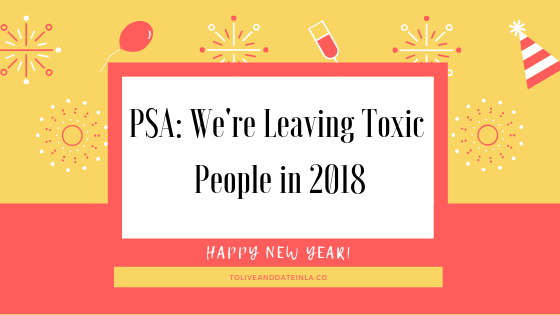 Here's what we are not going to do in the New Year: allow toxic people to reside in the mental, physical and emotional sacred spaces of our lives. We are letting them all go. Yes, all of them. They are not going to change, we cannot fix them-nor is it our duty to-and they do not deserve to hold a place in psyche any longer.
Letting go of toxic people can be extremely easy or incredibly hard. I find there are the two extremes and really not much wiggle room in-between them. I am the former. Excluding toxic people from my narrative has become so damn easy the older, wiser, and more impatient to bullshit I become.
This year I dealt with extreme narcissism, sexism, and backstabbing. It was incredible! In this particular situation, I worked with these people and had stay in it until my committed time came to an end. After I separated myself I then became the subject of their attacks. It fazed me for a minute then I realized just how sad, insecure, and hateful they have to feel about themselves and their lives to behave so toxic.
Continue reading